$0.99
Probably no single punctuation mark is so misused and misunderstood than the mighty, humble, COMMA. This guide is for ALL writers to ensure that their work is prose, not comedic. An omitted comma can lead to hilarious results. Don't become the laughing stock. Use the COMMA properly! It's quick, simple, and easy to learn. The correct use of the comma is the hallmark of an experienced writer.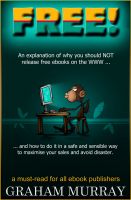 $0.99
A frank and open look at to why you should NOT release free ebooks on the World Wide Web or, "How to Shoot Yourself in the Foot" by mistake. Also known as "Everyone's Guide to eBook Hara Kiri".
$0.99
"Using SMASHWORDS as your eBook Publisher" takes an inside look at how to get the best from online ebook distributor, Smashwords. Written by author, Graham Murray, who has over 100 books published through this channel. [9500 words]. It is honest, brutal and a must-read for anyone considering publishing an ebook.