$1.99
A collection of 12 compelling short stories of the supernatural, the paranormal and the plain inexplicable from author, Graham Murray.
Are ghosts real? Do we all have Guardian Angels?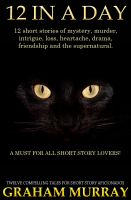 $1.99
"12 IN A DAY" is an anthology of twelve compelling tales by author Graham Murray, especially compiled for short story aficionados. Whatever your reading preference, there is a story here guaranteed to touch your heart or your soul. Perhaps even both.